Starting 2021 with a New Home Screen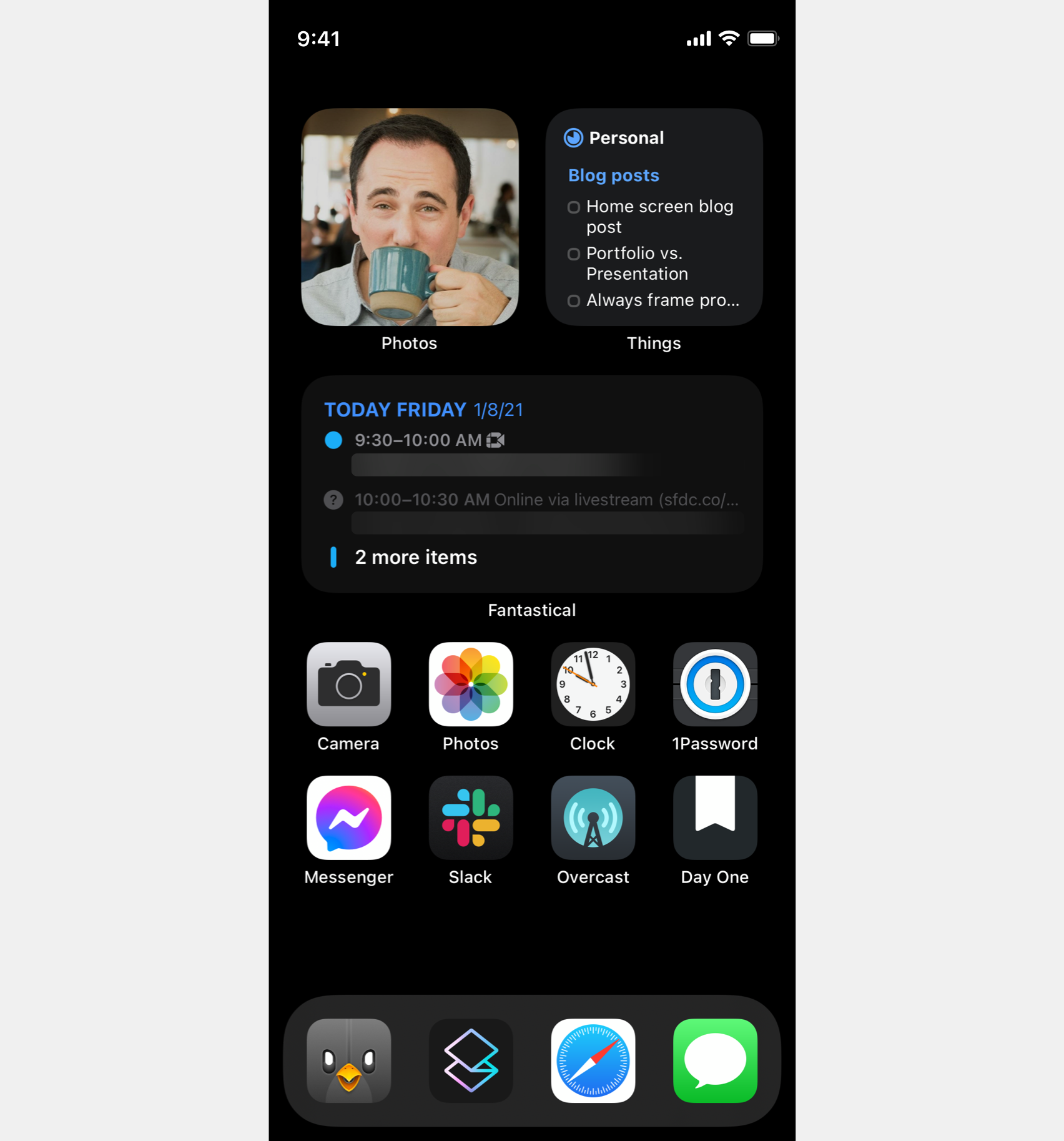 I was inspired by MG Siegler to share my homescreen at the start of this new year. According to Screen Time I look at my home screen around 80 times each day. It should be carefully curated and arranged to ensure I can quickly access the apps and content I'm seeking.
I've always strived to minimize the number of apps on my devices. If I stop using an app I delete it. This leads to a strictly simple home screen with just a few apps and folders. Also iOS 14 introduced a couple new features that can help reduce the number of visible app icons:
You can now remove apps from your home screen(s) and access them either by search or the App Library.
Widgets can launch their corresponding apps so you do not need their app icons on the home screen.
Let's begin.
---
Widgets
I love experimenting with widgets, and I can't wait to see what developers build in 2021. Yes, I am aware that Android has had widgets for several years. Android is ugly and buggy. Move on.
Widgets force me to be even pickier about which apps are placed on the home screen. Now I'm down to just 12 (8 if you do not include the dock).
Photos
Seeing random photos from my collection that begins in 2002 when I purchased my first digital camera, a Canon S200, brings me so much joy. Occasionally there will be a photo with a friend I haven't spoken to in a while, and I'll immediately send it to them.
Things
Things is my to do list app on iOS, macOS, and iPadOS. I've used it on and off for several years with the occasional break to try something new. The widget provides a glimpse of what I need to accomplish soon. I often switch to my work list when I know work-related tasks are piling up.
Fantastical
Fantastical is my calendar app on iOS, macOS, and iPadOS. It provides much more functionality and customization compared to the built-in Calendars app. Seeing what meetings are coming up helps me subconsciously prepare throughout the day.
---
Apps
Camera
I use the built-in Camera app for taking casual photos of objects and people. When I want to take a serious photo in RAW that I will curate, edit, and share later I launch Halide.
Photos
I use Photos to organize photos as part of a four step process: shot, approved, edited, shared on Instagram, and shared on Unsplash. Photos move from album to album throughout this process.
Clock
Clock isn't the most exciting app, but I oscillate between a few different alarm times during the week.
1Password
1Password is my password manager on iOS, macOS, and iPadOS. Passwords and online security will be its own post someday. The summary is my passwords are usually 20 characters of letters, numbers, and symbols. Any service that offers two-factor authentication is also configured using 1Password. It is crucial to have quick access to this app to copy and paste passwords and one time codes.
Messenger
Sadly I have an important friend group that includes a few Android phones. They are not interested in Signal, Telegram, etc. Hopefully I can remove this someday and be free of Facebook. Oh wait I still use Instagram. Uh oh.
Slack
Slack is crucial for informal communication. I don't even check work email on my phone (mostly because of security restrictions).
Overcast
Overcast is my podcast player on iOS (and on macOS using the web app). Someday when I have an M1-powered Mac I'll be able to run the iOS app on my desk. I prefer Overcast over Apple's built-in Podcasts app because of its simple design, and features like Smart Speed and Voice Boost which save time and enhance voices. According to Overcast Smart Speed has saved me 391 hours of listening time.
Day One
One of my goals for 2021 is to get my thoughts, concerns, ideas, etc. out of my head. Day One is feature-rich journaling app on iOS, macOS, and iPadOS, and for me it's perfect for quickly launching and typing whatever is on my mind.
---
Dock
Tweetbot
Tweetbot is my favorite third party Twitter client, and, most importantly, it has a feature I can't live without: timeline sync. I'm a Twitter completionist, so it's important to not lose track of where I am in my timeline. If I read a few Tweets on my iPhone and then open my Mac, I want to keep reading from where I left off. You cannot do this with Twitter's own apps.
Superhuman
Superhuman is an email app that sits on top of Gmail. It's available on iOS, macOS, and iPadOS. I like it because it's extremely fast, and it has a minimalist aesthetic. I don't want to see all the cruft and buttons and features and flags and whatever else Google decides to launch. Just text.
Safari
For personal web browsing I use Safari on iOS, macOS, and iPadOS. I like how tab syncing is built in to iCloud, and, anecdotally, Safari is faster and more stable than Chrome.
Messages
Obviously Messages is used on iOS, macOS, and iPadOS all day everyday. iMessage is awesome and I'm delighted to see Apple building new functionality for it like replies.
---
What's on your home screen?
up next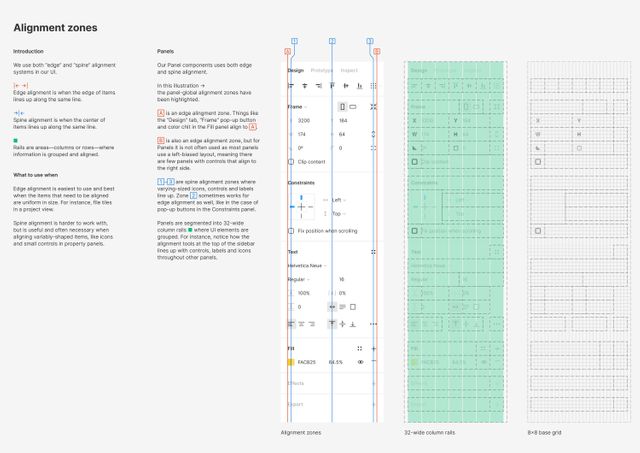 Grids
Throughout my career in user interface design I have sought to create balance and harmony through a combination of whitespace, typography, color,…